So yesterday I was at the mall & stopped by a clothing store that we have here called Maurice's. They recently started carrying a plus-sized selection, although pretty minimal. They also do the silly sizing like some plus-sized stores do, where they don't just label them 16/18, 20/22, etc. They size them 1, 2, and 3. What the hell? Just tell me what size I am, I don't need this silly number system! Well, I guess that's just for their tops... their bottoms are sized regularly, although they do run small.
So anyway, in November when I met one of my goals, I bought a new outfit from there (the sweater seen in the Thanksgiving picture on my picture blog). I was wearing a 3 on top, and I was unable to fit into any of their bottoms. I haven't really shopped for an outfit from there since, but yesterday I decided to stop in.
I found a really cute blue top... kind of like a thin t-shirt, but very very cute. I grabbed a size 3. And I decided to give their jeans a try. They didn't have flares in a 24, so I grabbed the 22, feeling very doubtful that they'd fit. Well, the top turned out to be a pillowcase on me, so I had the sales person bring me a 2. I was skeptical that it'd fit though, for some reason. And so imagine my surprise when I put the 2 top on, in combination with the 22 bottoms, and it looked like this: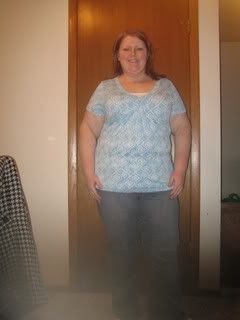 This is a very happy face: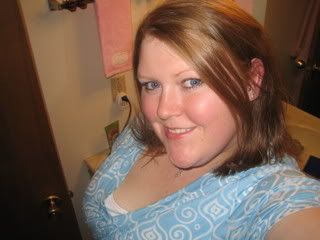 Tonight is my weigh-in. Once again, I feel skeptical that I'll hit my 50-pound mark. I just haven't been trying as hard as I should. Just kind of been half-assing it enough to get by & continue to lose at least a little. We'll see tonight though. I weigh in at 6.