So today was a day full of cooking! I got up early and went to the farmer's market to get some fresh tomatoes. Store-bought tomatoes have NOTHING on home-grown ones! Afterwards, I came home & cleaned the messy kitchen. I just can't wait to cook (and dirty it) when it's clean!
First, I got the crockpot going with my favorite soup:
Chicken Tortilla Soup
While that was cooking, I mixed up some healthy fruit dip. This dip is amazing! You can find it in deborahsw's blog
here
It's so versatile, too. You can eat it as fruit dip, eat it with graham crackers, frost cookies or cupcakes with it... the possibilities are endless! Her recipe is for cheesecake dip, but you can use any SF/FF instant pudding, and get endless flavor possibilities too! Chocolate would be awesome! I figured up points for 2 tbsp, and it's
0 points
!!!
One thing I like to do is use FF cool whip in between graham crackers, then freeze them. It's a nice little frozen treat that's almost like an ice cream sandwich. Well, today I made them with LF cinnamon graham crackers & the cheesecake fruit dip. YUMMY! For one sheet of graham crackers broken in half to make a sandwich, plus about 1-2 tbsp of the dip, it's only 1 point! Aren't they pretty:
For dinner, I whipped up my
beef enchiladas.
They were super delicious, once again! I added in a can of chiles this time (forgot them last time), and it gave it a great kick! Along with the enchiladas, I also enjoyed one of my fresh tomatoes w/some olive oil & feta cheese. It's also good w/goat cheese, like I did
last time.
Finally, after dinner, I tried out Trisha's
cake cookies
recipe, but I used milk chocolate cake mix. These suckers are AMAZING! They're only
1 point
each!!! I got a brilliant idea to make my own version of Fudge Rounds (you know, the Little Debbie full-of-calories snack?). I'd make the chocolate fruit dip I mentioned wanting to try, put a little between two of these chocolate cake cookies, and voila!
Two point
homemade fudge rounds! Here are my lovely cake cookies: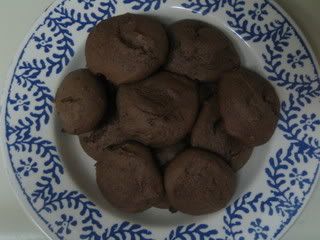 So like I said, today was a day FULL of cooking! I'm exhausted, but I feel like I accomplished so much!