I made these tonight, and they were delicious! The only thing "light" in them was the cheese on top. I have totally changed my opinion of light cheese since I tried Sargento's reduced fat mexican blend! The Kraft stuff is too dry for my liking & doesn't melt too well. Sargento though, I am a fan! Here's a picture of it in all it's deliciousness!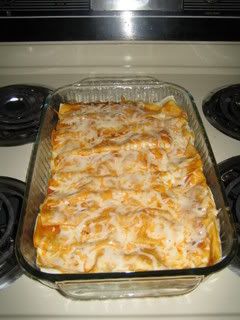 Beef Enchiladas10 enchiladas/4.5 points each
10 small flour tortillas
1 pound lean ground beef
1 can enchilada sauce
1 cup reduced fat mexican cheese
Salsa (optional)
Taco seasoning (optional)
1. Preheat oven to 350 degrees.
2. Brown hamburger in skillet & season with taco seasoning.
3. Add 2/3 can enchilada sauce to hamburger. Set aside 1/3 of the can.
4. Spray baking dish with cooking spray.
5. Fill tortillas with hamburger mixture & place in baking dish seam side down.
6. Top with the remaining enchilada sauce & sprinkle with 1 cup cheese.
7. Cover with foil & bake 20 minutes.
Top with salsa (0 points) or sour cream (additional points).
DELICIOUS!