Went to the farmer's market this morning & got some fresh tomatoes & goat cheese, which I thought sounded delightful together, so I threw this together: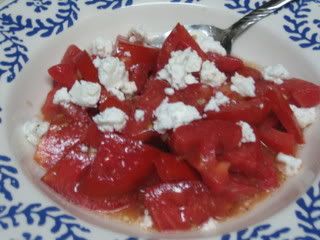 I used the recipe builder on WW, and I came up w/5.5 points for that whole bowl full. It's so delicious!!!
Tomatoes & Olive Oil w/Goat Cheese1 serving/5.5 points
1 medium tomato, diced (about 1 1/2 c.)
1 tbsp olive oil
The following to taste: minced garlic, pepper, misc. seasonings (I like to use Cavendar's Greek seasoning)
1 oz. goat cheese, crumbled on top
Dice tomatoes, then mix with all ingredients except cheese. Crumble cheese on top & enjoy!