Tonight I attempted a recipe that Trisha posted recently. It was for chicken breasts covered in French's cheddar flavored dried onions. The recipe can be found
here
She said they were great, and I'm glad she enjoyed them, but I just wasn't much of a fan. I think I just didn't love the cheddar flavor of the onions.... so don't lose faith in the recipe b/c Trisha liked it! Here's a picture of mine:
I also made homemade stove-top mac & cheese. This would have been good if it weren't for the mustard & possibly the worcestershire sauce. You could DEFINATELY taste the mustard... and for someone that isn't a fan of mustard, it wasn't too good. Mike said it "tasted like pickles" LOL. It was a great consistency though, and a HUGE portion for only 5 points (1 1/2 c. serving). I'd make this again, but modify it. I'll post the recipe in the next entry! Here's a view of the macaroni & chicken... see how big a mac & cheese serving is? I could only eat half of it!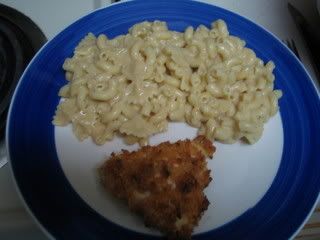 Finally, for dessert, I made PB&J cookies... only I apparently NEVER follow recipes all the way, so I just made them peanut butter cookies w/a reese's pieces or peanut butter chip on top. The actual recipe calls for you to put strawberry jelly on top, but I decided against that at the last minute... I'll post that recipe after the mac & cheese one in a few!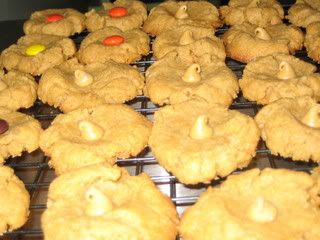 Whew, there was a lot of cookin' going on tonight! My goal is to try at least 3 new recipes per week so that my meals don't ever get routine or boring... and I tried 3 tonight alone! Go Teale!