Today is a good day.

My clothes bottoms range from 24-26 depending on the material. I've been in 24s for years, and it wasn't until I was about 270 that I dropped to 22s. So my 22s sit lonely in my closet, waiting for the day that I will wear them. As with any clothing, certain brands run bigger or smaller than others. I have a pair of Old Navy jeans that are 24s. They usually fit good when I first put them on, then as the day goes on, they get bigger and bigger. Then I have a pair of 22s from Target that are the same way.... fitted when I put them on, then they get looser throughout the day.

The last time I tried to put on my Target jeans, I could hardly get them over my hips... I managed, but they were probably an inch and a half away from being able to button. And even if I'd been able to button them, I would have had the muffin top of the century.

Well, today I put on my Old Navy 24s, and they were just too big for me to wear to the cookout we're going to this afternoon... I was worried I'd move the wrong way & they'd fall down! Granted, I wore them all day yesterday, so they had loosened a bit.... but I thought what the hell, I'll give the Target 22s a try, just to see how far I've got to go

And I got them on.

I am sitting here typing in freaking 22's!

They are fitted on me, but Mike will love it b/c he loves tight jeans on my ass. LOL And, throughout the day I know they'll have a little more give. I honestly thought it would be like another 30 pounds before I could wear these things.

And now, picture documentation of the jean experience:
These are my Old Navy 24s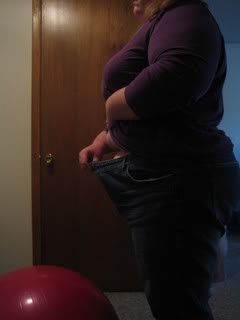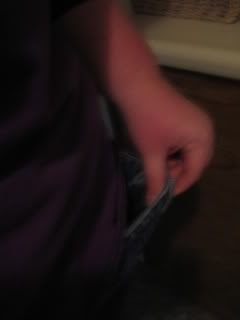 And now, my Target 22s (excuse the stupid expression)