I decided to make up my own recipe tonight and came up with this. I'm sure that there are other recipes quite similar to this, so it's not like I invented the concept of ranch chicken... I just didn't follow a recipe. This was SO delicious... I will definately make this again!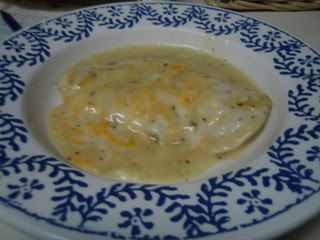 Monterray-Jack Ranch Chicken5 servings/4 points each(or 21.5 points for the whole recipe & make as many servings as you want!)
1 small can FF Cream of Chicken soup
1 packet of dry Ranch Dressing seasoning
1 package boneless/skinless chicken breasts (my package was about 18 oz, and points are figured for that amount... I also purchased the thin style so that it wouldn't take as long to cook)
1 c. 2% Monterray-Jack shredded cheese
1. Mix the soup and the ranch dressing in a small bowl. Add a few drops of milk or water if you think it's too thick (remember that this will thin out as it cooks!)
2. Spray a glass baking dish w/cooking spray & place chicken breasts in it.
3. Spoon the soup/ranch mixture evenly over the chicken.
4. Cook for 30 minutes in a 350 degree oven.
5. Add the shredded cheese and cook for 5 more minutes
This would also be good without the cheese, if you were looking to cut points. I think the cheese adds a little something to it, but the flavor of the ranch is certainly good on it's own, too.